CWFM Yakima – Old
---

Join the new generation of patients
Access your personal medical records, communicate with your doctors via online messaging, and make more informed decisions about your health.
Check our latest Wellness Tips video!
Awarded PCMH Certification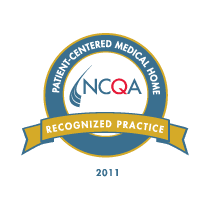 Community Health of Central Washington at its Yakima Clinic, Central Washington Family Medicine, has been awarded recognition by the National Committee for Patient-Centered Medical Home® Program
NCQA is committed to providing health care information through the Web and the media in order to help consumers, employers and others make more informed health care choices.
The Recognition Programs are built on evidence-based, nationally recognized clinical standards of care.
The NCQA Patient-Centered Medical Home 2011 program reflects the input of the American College of Physicians (ACP), American Academy of Family Physicians (AAFP), American Academy of Pediatrics (AAP) and American Osteopathic Association (AOA) and others in extension of the Physician Practice Connections Programs.
"The NCQA Patient-Centered Medical Home is a model of 21st century primary care that combines access, teamwork and technology to deliver quality care and improve health", said NCQA President Margaret E. O'Kane. "NCQA's PCHM 2011 Recognition shows that Central Washington Family Medicine has tools, systems and resources to provide their patients with the right care at the right time."
Learn more about our PCMH Program
---
See what our patients are saying about us!
CWFM is the clinic where
The Family Medicine residents and faculty care for their patients. You will be assigned to one of these physicians. Since they all have teaching or learning duties outside the clinic, they have limited clinic times. To provide uninterrupted care for you, we have four teams within the clinic. You and a group of providers are assigned to one of these teams. We make every effort to schedule you with your own doctor, but if he/she is not available, you will be scheduled with a partner of your team. View medical teams
Clinic Hours
CWFM is open Mon through Friday 8:00 am to 7:30 pm.
We provide
The full range of primary care for adults and children including pregnancy and delivery. When you require more specialized care, we will refer you to the proper specialist and coordinate your care.
I think that our bodies can usually heal themselves, and the role of the physician is to help remove barriers to the healing process, whether they be medical, social or spiritual.
Our Address
Phone: (509) 452-4520
Address: 1806 W. Lincoln Ave.
Yakima, Washington
98902