WIC Clinic






Women, Infants, and Children Nutrition Program (WIC) improves health and nutrition status of pregnant women, new mothers, infants and children under 5 years old. WIC provides health screening, nutrition education, checks for nutrient-rich foods, breastfeeding support and referrals to other health and social services.
We are the only WIC program serving Kittitas County. We have 2 bilingual (English and Spanish) WIC Certifiers and a Registered Dietitian. We are excited to work with you and your growing family!
WIC has a new home!
Our new address is:
607 E Mountain View Ave (the same building as the Department of Licensing)
Cle Elum WIC is located at 201 Alpha Way, Cle Elum, (in the KVH Cle Elum Medical Clinic)
Hours
8 – 5 PM Monday through Friday
Phone (509) 962-7077
Our Cle Elum WIC office is open Tuesdays from 8:45AM to 12 Noon and 1:00 to 4:00 PM.
Call the Ellensburg WIC office to make your appointment: (509) 962-7077
---

WIC is excited to announce we have added new items to our food packages!
All new changes are included in our updated (green colored) WIC shopping guides. Pick up a new WIC shopping guide anytime at the WIC office or at your next WIC appointment. Grocery store checkout lanes should also have copies of our updated shopping guide.
Infant Baby Foods:  WIC now offers Earth's Best Organic and Beech-Nut Naturals.
Cereal:  8 new cold breakfast cereals and 4 new hot cereals are offered.
Juice:  New frozen mixed fruit juice blends and more flavors in 46 oz containers of vegetable juices for women.  Cans of 46 oz fruit juice have been removed from women's food packages.
Now more options of 64 oz mixed fruit juice blends for kids.
Cheese:  Colby Monterey Jack is now available!
Whole Grains: More variety and options! Instant brown rice, more brands of whole wheat pasta and whole wheat hamburger and hot dogs buns.
Tofu: Now offering Silken and Sprouted Super Firm Tofu by NaSoya Organic Tofu.
Questions? Call us, we'd love to hear from you!
(509) 962-7077
---
Are you eligible?
WIC Income Guidelines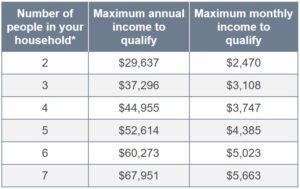 *If you are pregnant, include each unborn child in your household number
---

How WIC Helps
WIC helps by improving the health of nutritionally at risk low income women, breast-feeding moms up to baby's first year, infants and children. WIC services are provided at no cost to recipients.
Who WIC Helps
Pregnant Women
Moms up to 6 months after baby is born, if they are not breastfeeding
Breastfeeding moms up to baby's 1st birthday
Babies up to their first birthday
Children from age 1 up to their 5th birthday
What WIC Provides
Nutritious Foods
Nutrition Information
Breast Feeding Support
Healthcare Referrals
Community Program Information
Information about upcoming family events
WIC Eligibility Requirements
Click here to look at our eligibility guidelines
Call us to schedule an appointment!
---
HELPFUL LINKS TO MATERNAL AND CHILD HEALTH RESOURCES
Looking to apply for Cash Assistance, the Basic Food Program or Childcare Assistance?
Walk in appointments are available at the Department of Social and Health Services (DSHS) located at 100 East Jackson Avenue, Suite 300 in Ellensburg.
Bilingual (English and Spanish) staff are available to help you Monday through Friday 8-5pm. Applications for DSHS programs are accepted 8am-2pm Monday through Friday.
Washington State Department of Health—Home Page
The Washington State Department of Health (DOH) provides information and links to resources regarding maternal & child health; oral health; disease prevention; immunization information and many other topics.
ParentHealth123 is a resource that provides links and information on applying for DSHS services including children's medical coupons, Basic Food applications; and links to other parenting topics.
Parent Trust for Washington Children provides information including parenting tips and coaching as well as referrals for parents and families.
Kittitas County Public Health Department
Kittitas County Public Health is dedicated to providing a safe and healthy Kittitas County. This site provides statistics, information and referral to resources including immunizations; communicable disease information; food and water safety.
Information on how to avoid pregnancy, planning a pregnancy, pregnancy, and being a brand new mom
Listeriosis and risks during pregnancy
Breastfeeding- help and information
Immunization information- birth to adults